The Power of a United Breast Cancer Team: Your Leading Breast Cancer Allies
Breast cancer is a devastating disease that affects millions of women worldwide. In the fight against this formidable foe, having a knowledgeable and experienced team of healthcare professionals on your side is essential. From diagnosis to treatment and follow-ups, Charleston Oncology, as a part of the Department of Bon Secours St. Francis' leading multidisciplinary cancer care team, plays a vital role in guiding patients through their breast cancer journey.
The Importance of a Strong Team in Breast Cancer Treatment
When it comes to fighting breast cancer, having a strong and supportive team that work together seamlessly is crucial. Charleston Oncology works side-by-side with healthcare professionals specializing in a myriad of oncology and hematology services to provide the best possible care. A strong, interconnected team is important in breast cancer treatment due to the complexity of the disease. Breast cancer is not a one-size-fits-all condition. Patients are diagnosed with different types and stages of breast cancer, requiring specialized treatments and approaches. At Charleston Oncology, we ensure that every patient receives tailored and individualized care. Our medical oncologists work closely with your entire cancer care team to coordinate care specific to each patient's needs. We also believe that emotional support should be at the core of each treatment plan. A breast cancer diagnosis can be overwhelming. We walk alongside our patients to provide medical and emotional support as well as open doors to a wealth of support resources offered through Roper St. Francis Healthcare to help patients navigate care. Counseling and resources to help patients and their families cope with the challenges breast cancer presents are available. Collaboration with your care team includes, but is not limited to:
smoothly sharing medical information,
transparently providing services and associated costs,
participating in your case presentation to the multidisciplinary cancer team at the tumor board,
providing access to upcoming clinical trials,
medication management,
determining your best course of treatment from diagnosis to follow-up.
This collaboration extends beyond the Charleston Oncology medical oncology and hematology team, involving support networks, diagnostics, breast surgeons, reconstructive surgeons, radiation oncologists, interventional radiologists, geneticists, pharmacologists, breast care navigators and social workers, and more caregivers dedicated to advancing breast cancer care. Charleston Oncology patients have access to the latest advancements in breast cancer research and treatment options with the benefit and warmth of a not-for-profit, religious-based system of caring. We empower patients with knowledge and opportunities that can potentially improve their outcomes. From the latest immunotherapies to integrative oncology, Charleston Oncology remains at the forefront of cancer care.
Understanding the Role of Medical Oncologists on Your Team
Our oncologists are doctors who specialize in diagnosing and treating cancer. Each physician at Charleston Oncology works closely with other healthcare professionals to develop a comprehensive treatment plan tailored to your specific needs. Medical oncologists are responsible for coordinating your overall care, ensuring that all aspects of your treatment align with the latest guidelines and research. We, at Charleston Oncology, are experts in understanding the different types and stages of breast cancer, helping you navigate through the complexities of the disease. We are the primary point of contact for your treatment, overseeing chemotherapy, hormone therapy, targeted therapy, or other treatment modalities. We monitor your progress, assess any side effects, and make necessary adjustments to your treatment plan. As medical oncologists, we play a vital role in discussing treatment options with you. The Charleston Oncology team explains the potential benefits and risks of each approach and guides you in making informed decisions about your care. Collectively, our knowledgeable and empathetic oncologists have many decades of experience in managing breast cancer.
The Crucial Role of Radiologists in Breast Cancer Diagnosis
Another indispensable member of your breast cancer team is the radiologist. Radiologists are specialized doctors who utilize imaging techniques to diagnose and monitor various medical conditions, including breast cancer. Their expertise in interpreting medical images plays a vital role in detecting and evaluating the presence of breast cancer. Radiologists use a range of imaging techniques, such as mammography, ultrasound, and MRI, to obtain detailed images of the breast tissue. These images provide valuable information about any abnormalities, including tumors or other early signs of breast cancer. They work closely with other healthcare professionals, including oncologists and pathologists, to ensure prompt and accurate diagnosis. Once a potential abnormality is identified, the radiology team meticulously analyzes the images to determine the nature of the abnormality. With their specialized training, they can differentiate between benign and malignant conditions, enabling early diagnosis. Through regular imaging, they can help medical oncology assess the response to therapy, identify recurrences, and make necessary adjustments to the treatment plan.
Surgeons: The Skilled Hands Behind Breast Cancer Surgery
When it comes to breast cancer treatment, oncology surgeons play a central role in providing the necessary surgical intervention. These skilled professionals are trained in performing various surgical procedures to remove tumors or affected tissue from the breast One type of surgeon that you may encounter during your breast cancer journey is a breast surgeon. The Roper St. Francis Breast Surgery team specializes in performing surgery related to breast diseases, including breast cancer. They have extensive knowledge of the intricate anatomy of the breast and are experts in various surgical techniques. A breast surgeon will work closely with other members of your medical team to develop a personalized treatment plan that suits your specific needs. They will assess factors such as tumor size, location, and stage of the cancer to determine the most appropriate surgical approach. During the surgery, the surgeon will remove the tumor and any surrounding tissue that may be affected by cancer cells. They will also ensure that an adequate margin of healthy tissue is left behind to minimize the risk of recurrence. Depending on the stage of the cancer, additional procedures such as breast reconstruction or lymph node removal may be necessary.
The Invaluable Support of Nurses Practitioners, Physician Assistants, and Oncology Nurses in Your Breast Cancer Journey
While physicians play a vital role in breast cancer treatment, they are not the only experts you will encounter on your journey. Nurse practitioners (NPs), Physician Assistants (PAs), and oncology nurses, with their unwavering support and compassionate care, are an invaluable part of your breast cancer team. PAs and NPs are extensions of your medical oncologist. Oncology nurses act as a bridge between you and your medical team, providing emotional support, education, and guidance throughout your treatment process. They are there to answer your questions, address your concerns, and ensure that you feel confident and comfortable in your decisions.
Schedule An Appointment
In the fight against breast cancer, Charleston Oncology provides a united and supportive team. From skilled surgeons and nurses to the transformative support of breast navigators and counselors, each member plays a vital role in your breast cancer journey. We invite you to make a new patient appointment with our medical oncologists to determine if Charleston Oncology and the leading cancer care team are the right fit for your treatment journey.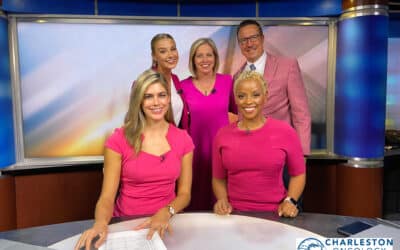 Staying Aware for Breast Cancer Awareness monthCharleston Oncology is proud to sponsor Staying Aware for Breast Cancer Awareness month in conjunction with WCIV News Channel 4. We continue to partner with our community to ensure that every woman has the best chance of...
read more